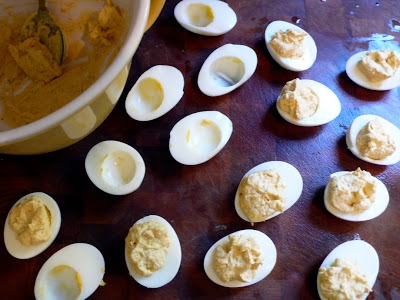 INGREDIENTS
12 hard boiled eggs, peeled
1/4 cup Duke's mayonnaise
2 teaspoons white wine vinegar
2 Tablespoons sweet pickle relish
2 Tablespoons Dijon mustard
Hungarian paprika
Salt & pepper
DIRECTIONS
1. Arrange eggs in one layer in a saucepan. Pour in enough cold water to cover the eggs by at least one inch, and place the uncovered pan over high heat.
2. Time the eggs from the moment water boils and a few eggs begin to move around in pan.
3. Reduce the heat to medium high.
4. When the eggs have cooked for 10 minutes, turn off the heat and cover pan, let set for 10 minutes then cool the hot eggs by running plenty of cold water in pan, the egg will shrink slightly inside the shell, making them easier to shell.
5. Let eggs cool for at least 20 minutes in pan with cold water before peeling. (method from recipehut.com)
6. Slice eggs in half lengthwise, and carefully remove yolks.
7. Mash yolks with mayonnaise.
8. Add relish, mustard, apple cider vinegar, a pinch of paprika, salt, and pepper; stir well.
9. Spoon yolk mixture into egg whites.
10. Garnish, with sprinkles of paprika.
About F for Food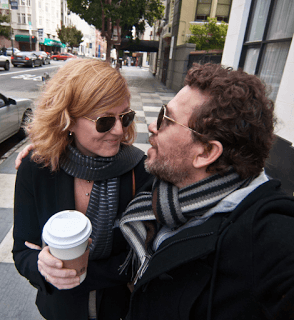 Visit F for Food for words and pictures about all things food. And wine. There is often wine. The bloggers at F for Food eat, drink and document their way through the kitchen and the world.
Elliott started F for Food in January of 2008. His interest in food, be it cooking, eating, reading or thinking about it, had become somewhat of an obsession. What he consumed was consuming him, he says. Elliott's friend, Chris, suggested he start a blog. Elliott didn't even know what a blog was, but together, that night, they established the foundation of F for Food. In fact, it was Chris who helped Elliott come up with the name. Chris knew one of Elliott's all-time favorite documentaries was F for Fake by Orson Welles. He also knew Elliot loves word play. And F for Food was born.
Over the years, Elliot has written about restaurants, food trucks, chefs, seasons, ingredients, trends, and recipes. Almost always the words become stories that weave through the years of Elliott's life and the family, friends, characters and places without whom there would be no stories. Visit F for Food at 
http://fforfood.blogspot.com/
.