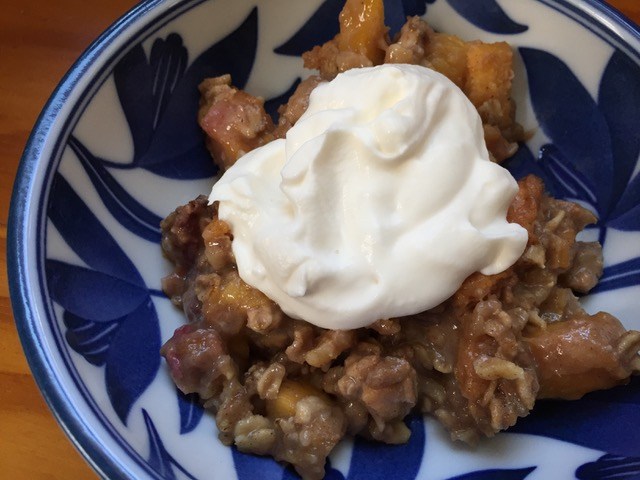 For this scrumptious recipe, Christina Nifong combines an old family cobbler recipe and a recipe for a crisp. Nifong hopes you'll enjoy this Peach Crisp as much as her family did. On a side note, Nifong says you can substitute the peaches with other berries, stone fruits or frozen fruit.
Makes 8 servings
INGREDIENTS:
3/4 cup organic rolled oats
1/3 brown sugar or coconut sugar (for a healthier take)
1/3 cup whole wheat pastry flour
3 Tbsp. butter, melted
1/2 tsp. cinnamon
1/4 tsp. nutmeg
1/4 tsp. fine sea salt
6 cups peeled, sliced peaches (or other fruit)
1/3 cup honey, local if you can get it
1 Tbsp. cornstarch or brown rice flour (again, a more healthful choice)
DIRECTIONS:
Heat oven to 375°F. Coat 9-inch baking pan with butter.
In medium bowl, mix together oats, sugar, flour and spices. Add butter and stir until mixture resembles coarse crumbs.
In a separate bowl, toss together fruit, honey and thickener.
Sprinkle about  1/4 cup of oat mixture into the baking pan. Pour fruit mixture on top.
Spoon remainder of oats into a next layer, covering fruit completely.
Bake until everything is golden brown, about 30 minutes.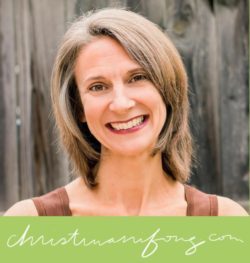 About Christina Nifong
Christina Nifong, blogger at christinanifong.com, is a teller of tales, a collector of ideas and a writer who has enjoyed a decades-long career as a journalist and features writer. Based in Southwest Virginia, Nifong currently freelances for magazines such as The Local Palate and SWVA Living.
Before moving to Southwest Virginia, Nifong worked in Albania and Vienna, Austria. She has also worked in Boston, New York, Los Angeles, Atlanta and Raleigh, N.C.
Nifong has covered everything from presidential races and poverty to artists and chefs, written yearlong series and award-winning short features. She loves introducing readers to new concepts, intriguing people and excellent writing.
Since moving to Southwest Virginia, Nifong has become a locavore with a large garden and five chickens. Nifong recently spent a year writing about food for The Roanoke Time. She currently teaches classes to help people find and eat healthy, local food.
For more information on Nifong's work or to enjoy more of her recipes, visit http://christinanifong.com/.