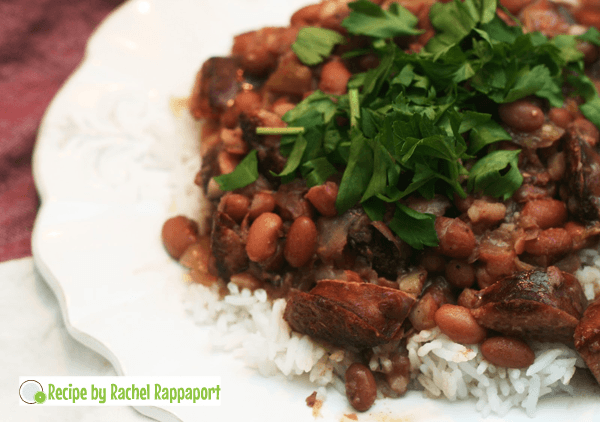 Rachel Rappaport, blogger at Coconut and Lime, tells us she had an inexplicable craving for red beans and rice one day. Despite being sick with a horrible cold, she was able to chop up some vegetables and put them in the slow cooker. She let the red beans and rice cook all day in the slow cooker, browned some sausage and was excited to satisfy her craving with some comforting red beans and rice.
Click Here for Rachel's Red Beans and Rice Recipe
Rachel Rappaport, Coconut and Lime blogger, is a Baltimorean, food lover turned recipe developer, and dog owner. Rachel holds a BA in Urban History and MA in Education. She started Coconut & Lime in 2004 to keep track of her own recipes and share them with her friends. Now, she is a full-time recipe blogger, professional recipe developer, food columnist and  cookbook author.  Her cookbooks include Cooking with Frank's RedHot Cayenne Pepper Sauce: Delicious Recipes That Bring the Heat, Everything Healthy Slow Cooker Cookbook and Everything Whole Foods Cookbook.
Rachel also contributed recipes and wrote the opening chapters to The Big Book of Slow Cooker Recipes and The Big Book of Vegetarian Recipes. She has also contributed several recipes to Good Bite Weeknight Meals: Delicious Made Easy and Ramps: Cooking with the Best Kept Secret of the Appalachian Trail.
Spectrum Stone Designs is proud to share recipes with our friends and clients. Spectrum Stone Designs is Lynchburg's only local fabricator of natural stone countertops, surrounds and tiles for kitchens, fireplaces and baths. Serving Lynchburg, Roanoke, Charlottesville and all of Central Virginia, Spectrum Stone Designs imports top-quality granite, marble and other stone and expertly cuts and polishes before professionally installing in homes or offices. Spectrum Stone Designs strives for excellence in craftsmanship and customer service.