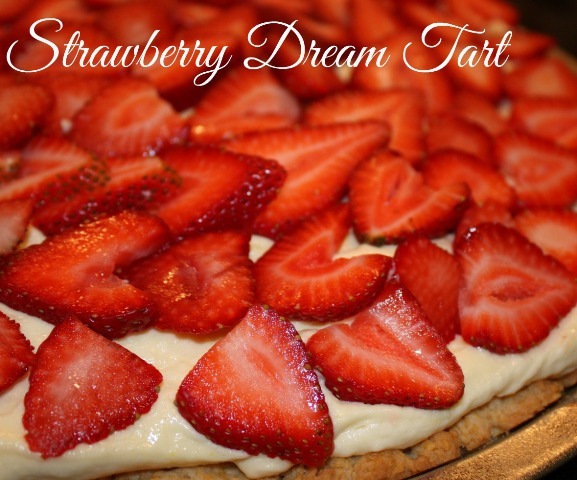 Our friend Paula over at VirginiaSweetPea.com shares her version of a Strawberry Dream Tart that is perfect for the 4th of July:
INGREDIENTS:
1 8 oz package cream cheese, softened
1 14 oz can sweetened condensed milk
1 5.1 oz package vanilla instant pudding mix
½ cup water
1 8 oz container frozen whipped topping, thawed
Brown sugar crust
1 quart fresh strawberries, sliced
BROWN SUGAR CRUST INGREDIENTS:
4 cups corn flakes
¾ cup butter
¼ cup firmly packed brown sugar
2 egg yolks
¼ tsp salt
¼ tsp almond extract
1⅓ cups flour
DIRECTIONS:
Make the Crust: Crush cornflakes; set aside. Beat butter and brown sugar at medium speed until fluffy; add egg yolks, salt, and almond extract, beating until smooth. Gradually add flour and cereal. Shape mixture into a ball; press into a well buttered, 12-inch pizza pan. Bake at 375 degrees for 10 – 12 minutes or until golden. Cool completely.
Make the filling: Beat cream cheese at medium speed with an electric mixer until smooth. Add sweetened condensed milk, vanilla instant pudding mix and water; beat until smooth. Chill five minutes; fold in whipped topping. Spread filling over crust.
Arrange strawberries over filling. Chill for at least 30 minutes before slicing.
About Virginia Sweet Pea:

Paula, blogger at virginiasweetpea.com is an active homebody who loves cooking and experimenting with new recipes. She loves crafting, gardening, reading and sewing. She also loves exercise and practices running, biking, tennis and weightlifting. Paula also enjoys time with Sherman, her dog.