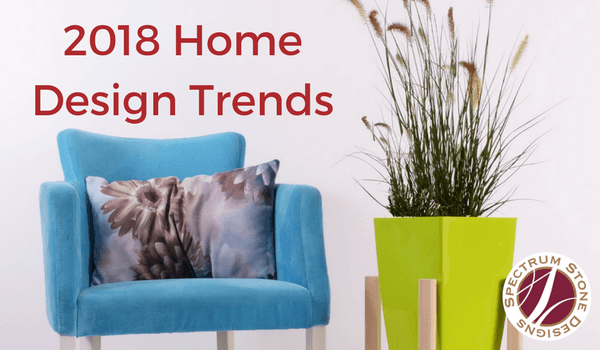 As 2o17 comes to a close, it is time to renew and refresh our lives and our homes. Just like fashions change, home design trends evolve from season to season and what may have seemed fresh and new last year may look dull and drab this year. Spectrum Stone Designs, Central Virginia's leading natural stone fabricator, shares 2018 home design trends to help you create a comfortable and relaxing living space:
Brighten with Blue: Blue is a popular color for home design in 2018. With the color's calming effect, blue is perfect for bedrooms, living rooms bathrooms and kitchens. Try lighter shades of blue for a peaceful feel or darker shades for a more dramatic look.
Darken Up: Dark woods are all the rage. From mahogany to walnut, darker colors give homes a modern feel. Other options include mango, cherry or lighter woods with darker stains.
Fun with Flowers: Florals are making a comeback in the new year. Try adding a comforter covered in blossoms or some throw pillows with daisies or dahlias. Flowers are a simple way to brighten any space.
Play with the Practical: 2018 is about efficiency in the home. Spaces should be comfortable for the entire family, from kids to grandparents. Go for pieces that can transform from a day at home entertaining the kids to a dinner party for coworkers.
Try Technology: Smart homes are making lives easier. From automation that controls your lights to robotic vacuums and thermostats, there are a variety of technological advances to make your home simpler to manage. Automate your home today so you can enjoy relaxing in your home instead of cleaning it.
Spectrum Stone Designs is Lynchburg's only local fabricator of natural stone countertops, surrounds and tiles for kitchens, fireplaces and baths. Serving Lynchburg, Roanoke, Charlottesville and all of Central Virginia, Spectrum Stone Designs imports top-quality granite, marble and other stone and expertly cuts and polishes before professionally installing in homes or offices. Spectrum Stone Designs strives for excellence in craftsmanship and customer service.