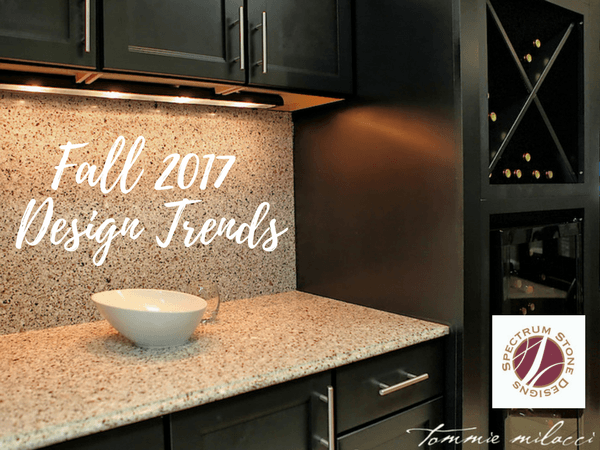 They say home is where the heart is. That's why your home needs to be the place you feel most comfortable, and the colors, patterns and furniture you bring into your house can affect how you feel in your space. At Spectrum Stone Designs, Central Virginia's leading natural stone fabricator, we keep up with home design trends for you, so you can ensure your rooms are modern and inviting for guests and family.
Autumn 2017 is upon us, and trends are turning towards darker colors and warmer textures. Here's our list of some of the most exciting Fall 2017 design trends.
Go Dark: Dark colors are in. From dark cabinets to dark shades of couches and chairs, greens, blues and violet hues are all the rage. Try painting your ceiling a dark shade or install a dark countertop in Absolute Black, Blue Pearl A or Emerald Pearl.
Colorful Kitchens: Just as dark colors are in, so is the trend of adding color to your cooking space. Accent an island with a pop of color just like our client did below, or try adding color to your backsplash or countertops. Colorful countertop choices include Imperial Red, Kangaroo Green or Rustic Green.
Branch into Brass: Adding brass fixtures is a quick and easy way to update your home. Try brass accent pieces, faucets or knobs for a fast, but dramatic change.
Bloom in Blush: From flowers to walls to furniture, blush, a slightly darker shade of pink, is hot this fall. To add a fun brush of blush to your home, pile on some accent pillows, think of adding a throw or invest in some bright blush artificial flowers.
Color the Ceiling: Fall 2017 is all about drama, and painting your ceiling is the perfect way to embrace this trend. Choose a shade that matches your existing floors, countertops and cabinets, and have fun with something bright and new to look up to…literally.
Need help designing your home for Fall 2017? Contact Spectrum Stone Designs today.
Spectrum Stone Designs is Lynchburg's only local fabricator of natural stone countertops, surrounds and tiles for kitchens, fireplaces and baths. Serving Lynchburg, Roanoke, Charlottesville and all of Central Virginia, Spectrum Stone Designs imports top-quality granite, marble and other stone and expertly cuts and polishes before professionally installing in homes or offices. Spectrum Stone Designs strives for excellence in craftsmanship and customer service.