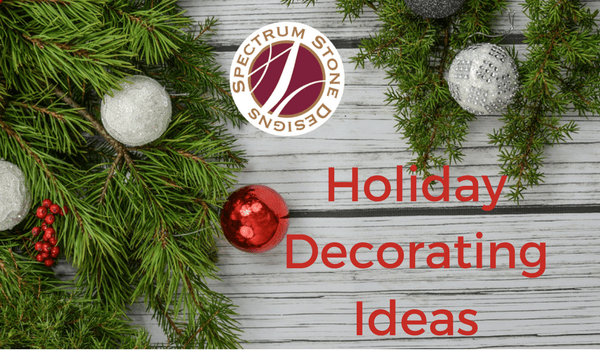 Green, red, blue, gold and silver color our homes. The smell of fresh-baked cookies and the scent of a freshly cut pine tree fill the air. The holidays are here, and it is time to decorate our homes to match our joyous moods.
Spectrum Stone Designs, Central Virginia's leading natural stone fabricator, shares five holiday decorating ideas to make your home festive this year:
Hang Stockings from the Staircase: While nursery rhymes might tell us that the stockings were hung by the chimney, there is no reason you can't spice things up a bit by hanging them elsewhere. Try hanging stockings from the staircase for a different look. If you typically fill stockings with gifts, use different sets for the staircase and the fireplace mantel.
Bring Wreaths Inside: Wreaths embellished with balls, bells and bows look great on front doors but they also make beautiful artwork. Hang a wreath from a wall or over a mirror for a cheerful vibe. You can also try using wreaths as candle wraps or table centerpieces.
Wrap Boxes: Even if you haven't finished your holiday shopping, you can use boxes wrapped in pretty colors and adorned with ribbons and bows as decor. Place them under the tree, beside your front door or place small wrapped boxes on tables as decoration.
Let the Light In: From candles to tree lights, the holiday are the perfect time to use light to create cozy spaces in your home. String nonflammable lights on your tree, mantel or staircase greenery and swap out your regular candlesticks for festive colors and styles. Use lighting to spotlight decorated areas of your home.
Spruce Up Existing Decor: If you don't have enough time to decorate your entire home for the holidays, try adding some decorations to your existing decor. Fill jars or glass vases with silver and red balls or hang ornaments from doorknobs and on the sides of picture frames for a pop of fun.
The holidays are the perfect time to try something different in your home design. Because it is only temporary, you can utilize new ideas in your design that you wouldn't normally employ. With a little green, a little gold and a little creativity, you can make your house shine this holiday season.
Spectrum Stone Designs is Lynchburg's only local fabricator of natural stone countertops, surrounds and tiles for kitchens, fireplaces and baths. Serving Lynchburg, Roanoke, Charlottesville and all of Central Virginia, Spectrum Stone Designs imports top-quality granite, marble and other stone and expertly cuts and polishes before professionally installing in homes or offices. Spectrum Stone Designs strives for excellence in craftsmanship and customer service.