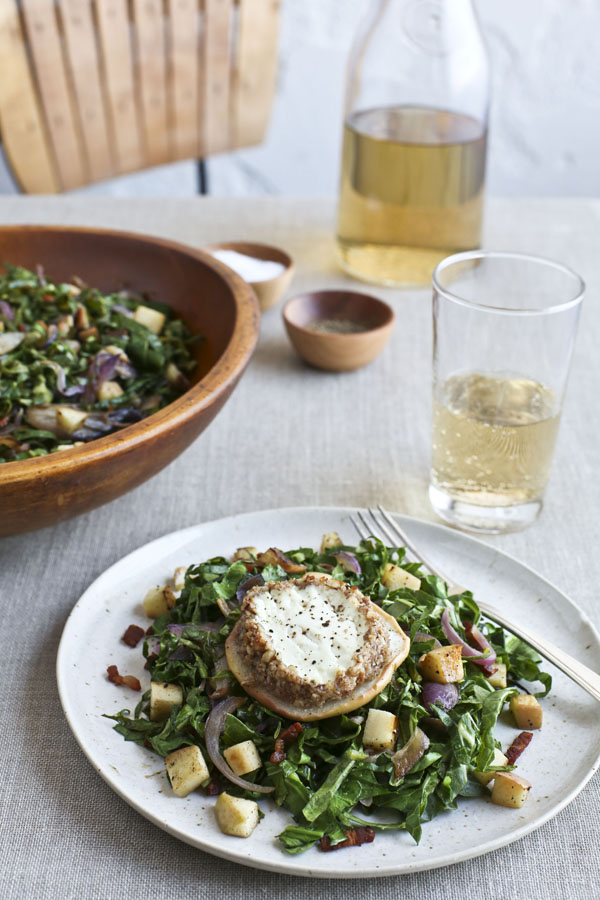 Makes 5½ cups to serve 6
Chèvre chaud, which translates to "hot goat cheese," is a traditional French dish that consists of a disk of fresh goat cheese melted on a bread crouton and served with crisp sturdy greens, often frisée. I first came across the idea of using a slice of apple instead of bread at a little ferme d'auberge, an inn that doubles as a working farm, in Burgundy, France. I can't imagine a French bonne femme, or housewife, being out of baguette, so maybe she simply had a bit of lightened up inspiration, too.
The traditional French version has a pretty slim greens-to-cheese ratio and is also dressed in a shallot vinaigrette, so I've lightened it up by adding tons of kale, using slightly less cheese, and eliminating the baguette. The result is still a hearty, filling salad packed with flavor and protein and perfect for fall.
See more fabulous recipes from Virginia Willis in Lighten Up, Y'all by Virginia Willis or on her website at www.virginiawillis.com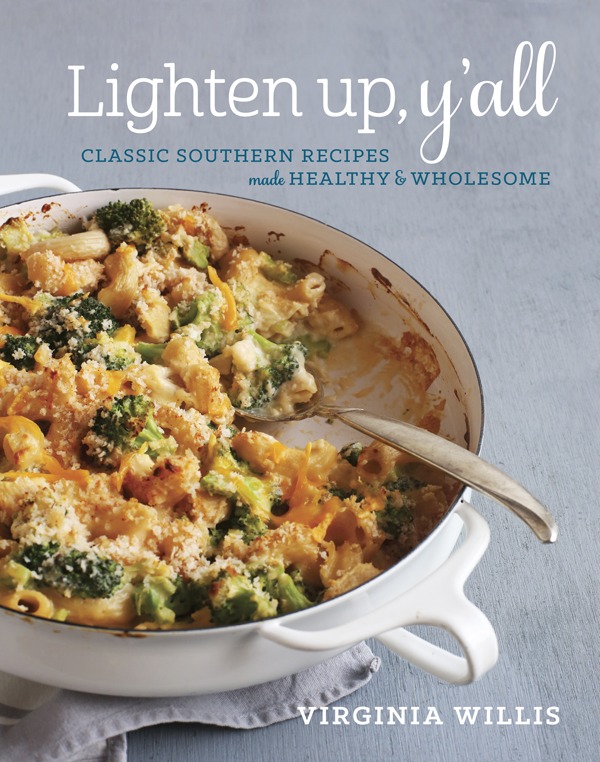 INGREDIENTS:
2 center-cut bacon slices, cut into lardons
½ red onion, thinly sliced
1 apple, such as Gala, Granny Smith, or Honeycrisp, skin on, cored and diced
Coarse kosher salt and freshly ground black pepper
8 cups tender kale, stemmed and cut into chiffonade
1 tablespoon sherry vinegar
3 tablespoons very finely chopped pecans
1 (6-ounce) log goat cheese
1 small apple, such as Gala, Granny Smith, or Honeycrisp, skin on with core, cut crosswise into ¼-inch-thick slices
DIRECTIONS:
Line a plate with paper towels. Line a rimmed baking sheet with a silicone mat and set aside.
Heat a large nonstick skillet over medium-high heat. Add the bacon and cook until crisp, about 5 minutes. Remove with a slotted spoon to the prepared plate. Pour off all but a film of the grease on the bottom of the pan. (Just eyeball it instead of trying to measure, but it should be just about ½ teaspoon; discard the remaining grease.)
To make the salad, return the skillet to low heat. Add the onion
 and the diced apple. Season with salt and pepper. Add the kale; cook until the kale begins to wilt, stirring occasionally, about 2 minutes. Add the vinegar; cover, and cook until just tender, stirring occasionally, about 4 minutes. Remove from the heat, taste, and adjust for seasoning with salt and pepper.
Meanwhile, preheat the oven to broil. Place the finely chopped pecans in a shallow dish and season with salt and pepper. Roll
 the goat cheese log in the pecans to evenly coat. Refrigerate until firm if necessary, then cut evenly into 6 rounds and place each round of cheese on the sliced apple. Place on the prepared baking sheet. Transfer to the oven and broil until the cheese is melted and browned, 3 to 5 minutes.
To serve, divide the kale salad among the plates. Top with an apple-cheese round and garnish with the reserved bacon. Serve immediately.
About Chef Virginia Willis
Chef Virginia Willis is the author of Lighten Up, Y'all, Bon Appétit, Y'all, and Basic to Brilliant, Y'all, as well as Okra: A Savor the South Cookbook and Grits by Short Stack Editions. Lighten Up, Y'all: Classic Southern Recipes Made Healthy and Wholesome received a 2016 James Beard Foundation Award of Excellence in the Focus on Health category and was a finalist for Best American cookbook by the International Association of Culinary Professionals. She is currently in development with WGBH for a series called Secrets of the Southern Table: A Food Lover's Tour of the Global South to air nationally on
public television stations.
She is a Contributing Editor for Southern Living and her column "Cooking with Virginia" debuted fall 2016. The Chicago Tribune praised her as one of "Seven Food Writers You Need to Know." A popular Southern chef, her legion of fans love her knack for giving classic French cooking a down-home feel and
reimagining Southern recipes en Français. Her eponymous food blog, tagged as a favorite blog by Saveur magazine, receives rave reviews for her recipes and stories celebrating her Southern heritage and classic French training. Learn more about Virginia and follow her traveling exploits at www.virginiawillis.com.
Reprinted with permission from Lighten Up, Y'all by Virginia Willis © 2015. Published by Ten Speed Press, a division of Penguin Random House, Inc. Photography © 2015 by Angie Mosier. For more information please visit www.virginiawillis.com