Ingredients
3 lb (approx) corned beef, flat cut brisket
3 medium onions, peeled and quartered
10 whole carrots, peeled
6 black peppercorns
4 bay leaves
1 TBSP ground Syrian Seven Spice or Chinese Five Spice Blend
1 TBSP pickling spices (or seasoning packet from meat)
1 bottle beer of choice
3-4 cups water
1 medium head of cabbage
Chive Cream Sauce
1 cup sour cream
2 TBSP prepared horseradish
2 TBSP minced fresh chives
Fresh ground black pepper to taste
Instructions
Remove beef from packaging, rinse and place in a large dutch oven. Add onions, carrots, peppercorns, bay leaves, spices and pour over beef. Add enough water to cover meat. Place lid on the pot and bring to a boil then turn down the heat and allow it to simmer for about 3 hours or until the meat is tender. Remove meat from pot and cover with foil. Remove carrots and onions to serving plate.
Cut cabbage in half, then quarter each half. Add this to the pot and its remaining liquid. Bring to a boil and allow it to simmer until cabbage is cooked to the desired tenderness. Unwrap beef and cut it against the grain, serve at once with the cooked vegetables and chive cream sauce.
Final Step – Prepare Chive Cream Sauce
Whisk together all ingredients for sauce and chill until ready to serve. Enjoy with corned beef.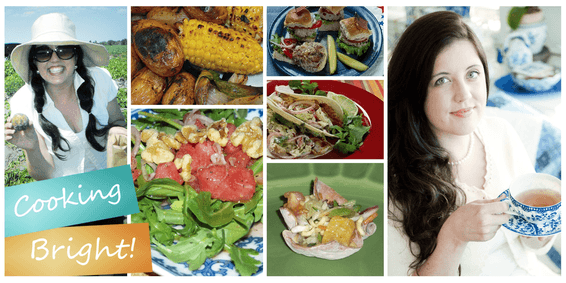 Jessica Bright is a food enthusiast and kitchen enabler with a passion for encouraging home cooks to explore new flavors. She is a mom, trained chef, educator, radio and television personality and a published author.
Originally from a small farm in southeastern North Carolina, Jessica learned to appreciate the land and what it could grow. When her family's business grew to include a fish market, she learned a great deal about seafood and how to prepare it.
Jessica's recipes are included in the book Fat Chance by Julie Hadden, a Season 4 finalist on NBC's The Biggest Loser. Jessica also co-wrote The Shannon Miller Healthy and Balanced Pregnancy Cookbook with Olympic gymnast Shannon Miller. She is also featured in A Hearty Helping of Quality Time – a cookbook to benefit the Florida Baptist Children's Home. Jessica has appeared in a variety of television programs, newspapers and magazines.
Bright served for four years as a certified master food and nutrition educator for the University of Florida and the Duval County Extension Service. She has worked as a personal chef, as an executive chef for a luxury kitchen and appliance company, as a product spokesperson for General Electric appliances and other national brands, a caterer and an event planner.  She has worked for such prominent companies as Walt Disney World, The Colonial Williamsburg Foundation (at the Williamsburg Inn), Marriott, Hyatt Regency and Darden Restaurants.
For more recipes from Celebrity Chef Jessica Bright, please visit www.cookingbright.com.