Brine:
12 ounces Pale Ale Beer
2 tbs. salt
1 cup water
¼ cup lemon juice
12-15 medium scallops (dry packed preferred)
Sauce:
1 cup Stout Ale, such as Guinness
1 tbs. Molasses
3 tbs. balsamic vinegar
1 tbs. soy sauce
¼ cup Quinoa
Vegetable oil for frying
Kosher Salt
2 tbs. butter
2 tbs. olive oil
Arugula
Avocado- sliced in wedges
Heirloom tomatoes, cut in small wedges
Directions:
Combine all brine ingredients, cover and refrigerate at least one hour.
Add all sauce ingredients to a saucepan over high heat. Bring to a boil, and then reduce to a strong simmer, cooking until reduced and thickened- should coat a spoon- about 10 min. Set aside.
Cook Quinoa until just tender in salted boiling water. Drain in a fine sieve and spread on a baking sheet. When cool and dry (about 30 minutes). Heat vegetable oil (about ¼ inch) until shimmering. Add quinoa and fry over moderate heat until crisp, about 2 minutes. Drain in sieve and spread on paper towels to dry. Season with salt.
Remove the scallops from the refrigerator, drain and place on 4-5 paper towels. Place another layer of paper towels on top and allow scallops to finish draining and drying for 15 minutes. Grind fresh ground pepper on the scallops. Melt 2 tbsp. butter and 2 tbsp. olive oil in pan over high heat. Allow butter to melt to a point of just smoking.
Add scallops to pan and cook to a dark golden sear, about 2 minutes. Flip and cook on other side until seared. Remove from pan.
Place a bed of arugula on a plate, placing slices of avocado and heirloom tomato wedges on top. Place scallops on top and drizzle the salad with the sauce. Add salt and pepper as desired. Makes 4-5 salad plates.
About Chef Ron Block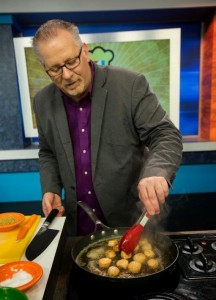 Chef Ron Block hosts an online and on-air book club featuring recipes influenced by each month's books. Each month, Chef Block takes you on a literary and culinary adventure featuring discussion, author interviews and cocktails! For more information about Chef Ron Block's recipes and book club, click here.