As we look forward to the NFL draft, it is time to start thinking about menu ideas for the big day. Our friends at The Same Difference bring us a wonderful recipe for Game-Day Stromboli perfect for a party of two or two hundred!
All you need to make it is some store bought pizza dough, a bunch of deli meat and cheese, a rolling pin, a baking sheet and an oven.  This one is for all you "non-cooks" out there who think you can't make anything.  The Same Difference is here to prove you wrong.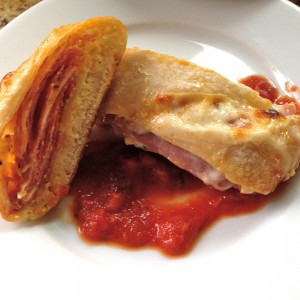 Ingredients
1 ball of store bought fresh pizza dough
3/4 lb. Virginia ham, sliced thin
1/3 lb. hard salami, sliced thin
1/4 lb. pepperoni, sliced thin
1 lb. white American cheese
dried oregano and basil
1 jar of your favorite pizza or pasta sauce
Directions
Preheat your oven to 400F.  Lay a piece of parchment paper on the baking sheet to prevent the stromboli from sticking. Set aside.
Roll out your pizza dough on a floured surface so that it is roughly a 14″x 9″ rectangle.
Start by placing a layer of 4-5 cheese slices down the length of the middle of the rectangle.  Next add a layer of ham, then pepperoni, and finally salami. Sprinkle with a bit of oregano and basil.
Repeat the layers of cheese, ham, pepperoni, salami and herbs two more times.  When completed, wrap the edges of the dough towards the middle (like wrapping a present).  You may have to stretch the dough to make it cover everything.  Make sure the ends are sealed tight and the seam is not splitting anywhere.
Flip the stromboli over so that seam is down on the baking sheet. Cut 4-5 diagonal slits in the top before baking.  Place in the preheated oven for 15-20 minutes or until the crust is nice and golden brown.  Remove from the oven and let cool for about 5 minutes.
While the stromboli is cooling, heat your sauce on the stove top.  Cut the stromboli into slices and serve with sauce if desired.
About The Same Difference
The Same Difference is a blog produced by two sisters, Jillian and Jamie, who share a common bond but have weaved two different paths in life. This Game-Day Stromboli recipe is from Jillian. She calls herself a juxtaposition of a Type A++ personality, math brain and creative collaborator.  Jillian holds a master's degree in structural engineering but uses her glue gun rather than her calculator on a regular basis.  She is the wife of a US Navy helicopter pilot and the mother of a precocious little girl, a newborn baby boy and step-mother to a boy entering college.  Jillian is a a DIY-er who has a can-do attitude about almost anything.  She is CEO, CFO, executive chef and head of human resources of her family.  Like most mothers, she juggles all day long, rarely doing only one task at a time.  Through creative projects and outlets, Jillian strives to keep her individuality by expressing her true personality in everything she produces. For more information about Jillian, please visit The Same Difference.